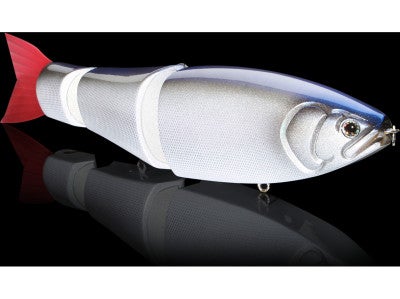 Is this the ultimate in hard bodied lures?
Like most fishermen, we here at FishMax have been known to pay a little more than perhaps we should for a lure, but over $400!?! That's how much a hard bodied lure called the "Mother Triple" from Japanese lure maker "Roman Made" will cost you [Ed: US$415.99 to be exact]. and no, it's not some sort of gimick or display lure, it's an actual lure designed to catch Large Mouthed Bass.
According to leading US tackle seller Tacklewarehouse.com, "Offering an additional jointed segment, the Roman Made Mother Triple Swimbait features the same beautifully crafted body design and key characteristics as the original Mother swimbait - now with a more lifelike and fluid swimming motion. Handmade and handcrafted one-by-one in Roman Made's facility near Lake Biwa in Japan, each bait takes approximately 12 hours to create. Tried and tested on the waters of Lake Biwa, its a true big fish bait designed for catching bass 30-inches and bigger. As proof, world record holder Manabu Kurita hooked into a bass he estimated to be 28-pounds on a version of the Mother swimbait, but lost her during the fight, and also landed the previous Lake Biwa record (prior to his world-record tying bass) on a Mother swimbait. Extremely difficult to find, the Roman Made Mother Triple Swimbait is a true work-of-art."
Even for crazy fishermen like us, $400 + is pretty hard to justify for a lure, no matter how many fish you catch with it. As one punter said "this thing would want to gut and fillet your fish for you once you caught it at that price".